Acrylic Bathroom Remodel Gilbert, Arizona!
Most Affordable, Durable, and Long Lasting Bathroom Remodel in The Industry!
Acrylic Shower Remodel With The Best!
At HomeTime Bathrooms, we specialize in providing top-quality acrylic shower remodels in Gilbert, Arizona. We believe that acrylic is the best material for your bathroom remodel for several reasons.
Firstly, acrylic is incredibly easy to maintain, saving you time and money in the long run. We provide a lifetime warranty on our acrylic materials, ensuring that you have peace of mind knowing that your investment is protected.
Unlike tile or stone walls, acrylic requires low maintenance and is highly resistant to scratches, chips, and cracks. With its non-porous surface, acrylic doesn't allow water to seep in, preventing the growth of mold and mildew. This means that your shower will stay clean and hygienic with minimal effort.
On the other hand, tile and grout can be a nightmare to maintain, as they are porous and can absorb water over time, leading to costly repairs. With acrylic, you don't have to worry about scrubbing or re-sealing grout lines.
Additionally, the cost of an average acrylic bathroom remodel is significantly less than that of a tile bathroom remodel and that is simply because you will never have to worry about remodeling that bathroom ever again. 
At HomeTime Bathrooms, we offer a variety of acrylic shower options with customizable designs to fit your style and budget.
Trust our experienced team at HomeTime Bathrooms to deliver the best acrylic shower remodel for your home in Gilbert, Arizona. Contact us today to schedule a consultation and transform your bathroom with our high-quality acrylic products.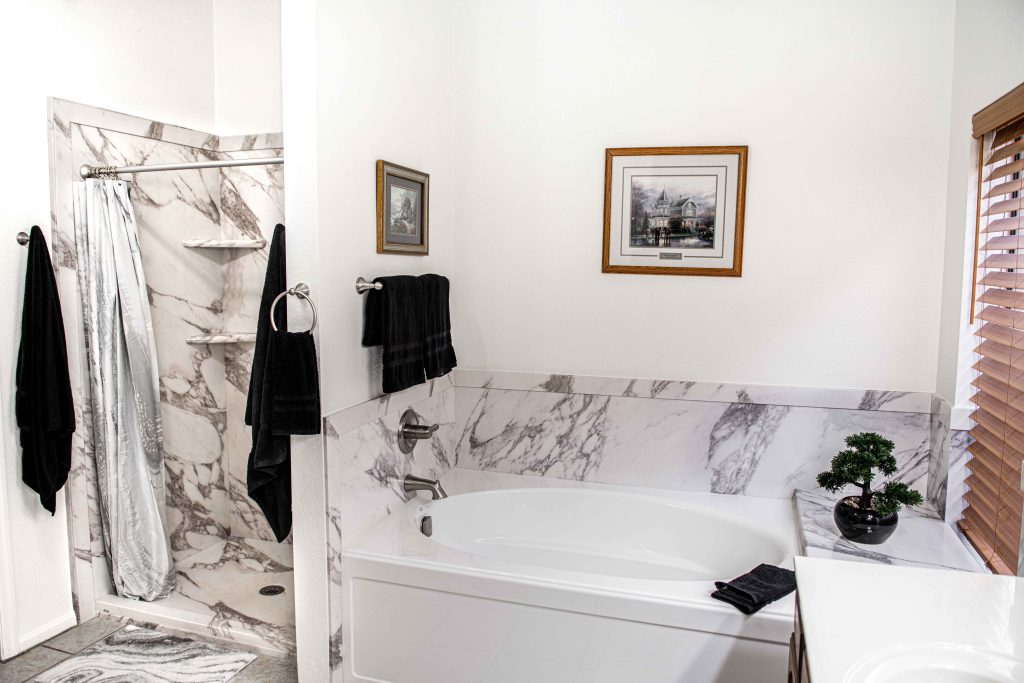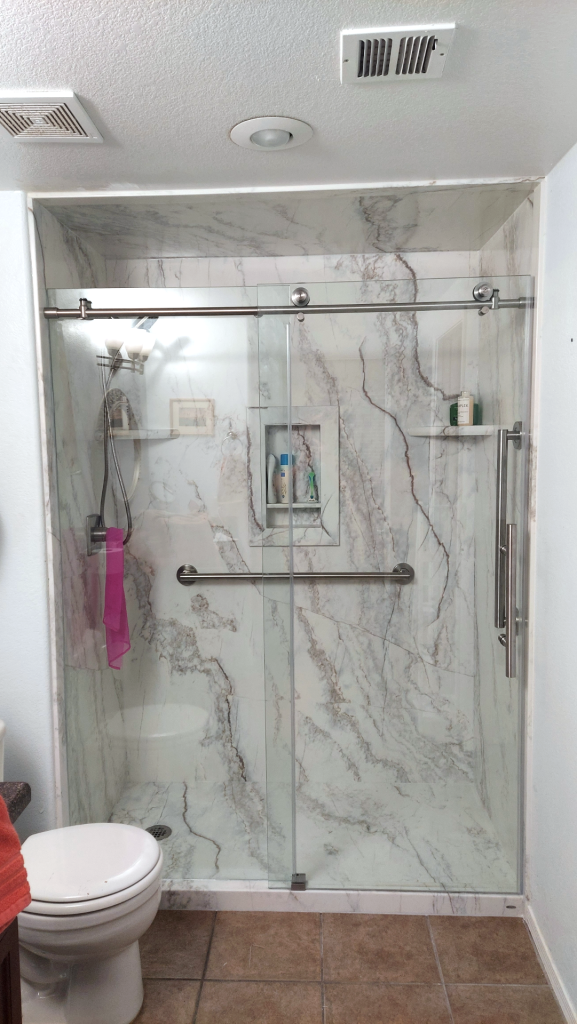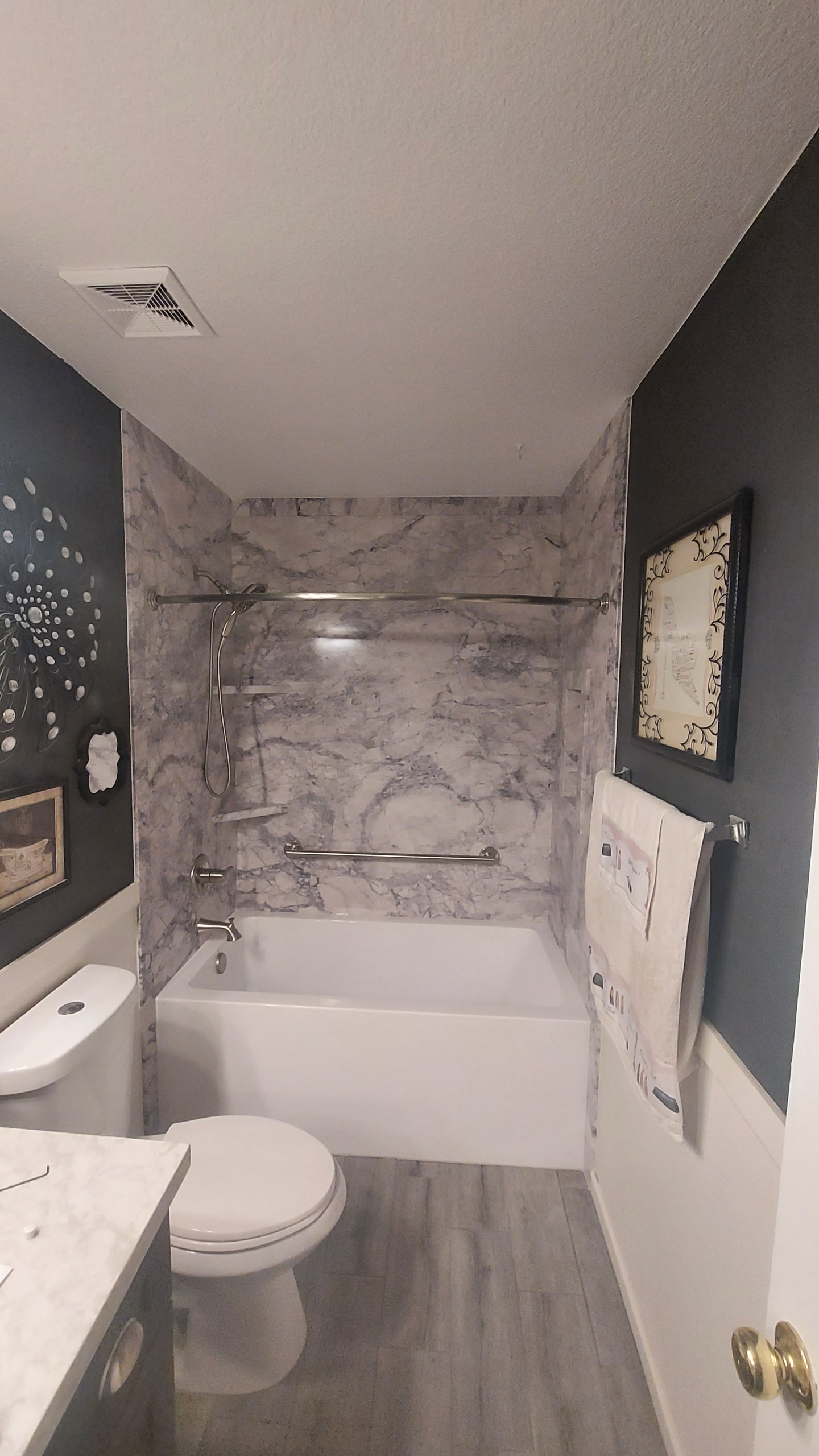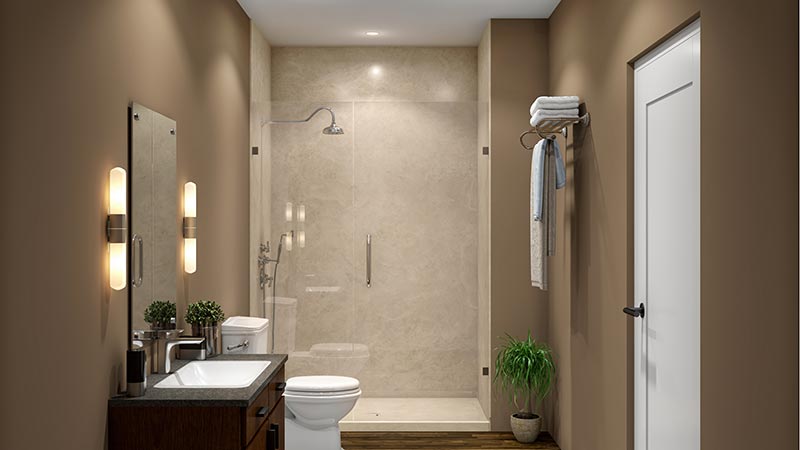 Transform Your Bathroom in Just a Few Days!
Acrylic Bathroom Remodels with HomeTime Bathrooms is the most cost effective and quickest way to remodel or renovate your bathroom.
With over 30 design options, your dream bathroom can come to life in just a few days!
Mold & Mildew Resistant Durability
Our Acrylic bathroom remodels are designed to last a lifetime. Our materials are mold & mildew resistant and comes with a lifetime warranty!
Choose Your Perfect Design
We offer over 30 different wall panel options in design that make it easy to find the perfect match for your Acrylic Bathroom Renovation.
From modern designs to traditional styles, you'll be able to find something that fits your tastes.
Fastest Bathroom Remodel
Experience the fastest bathroom remodel In Gilbert Arizona with HomeTime Bathrooms. Our acrylic walls are installed quickly and easily so you can have your dream bathroom in no time.
Affordable Bathroom Remodel
Say goodbye to expensive renovations with HomeTime Bathrooms! We offer the most cost-effective way to remodel or renovate your bathroom or shower without breaking the bank.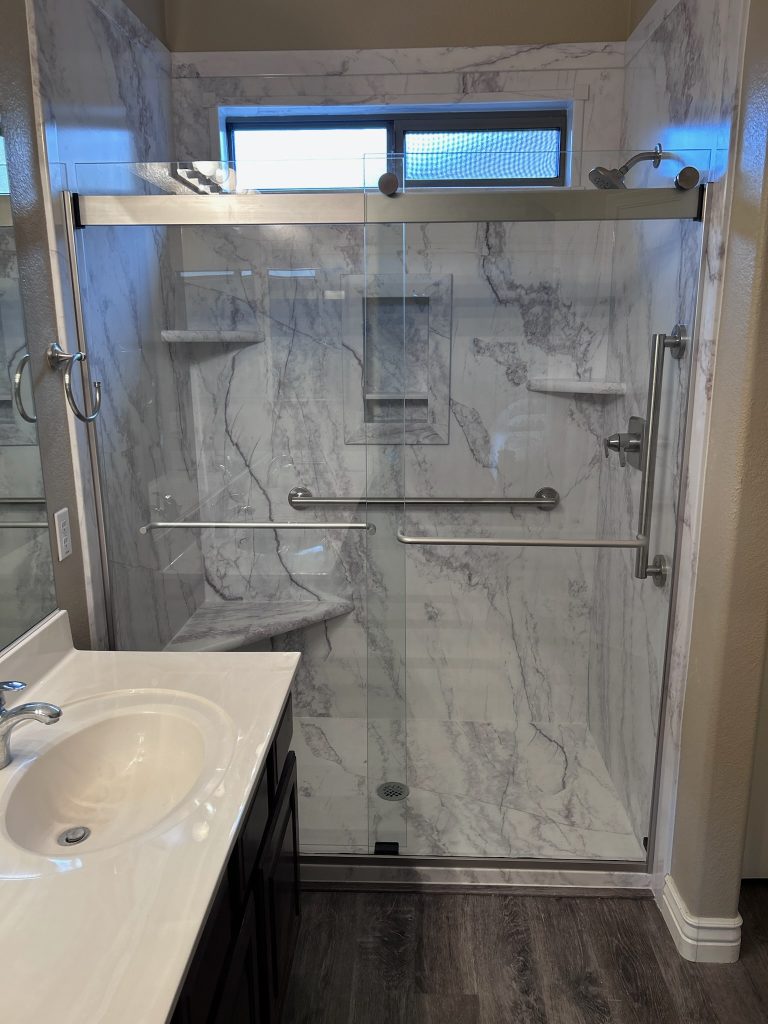 Opening Times
Monday through Friday 9:00 AM to 5:00 PM and Saturdays by Appointment Only
Office Location
1730 W Sunrise Blvd ste b 101, Gilbert, AZ 85233, United States
Affordable Acrylic Bathroom Remodel In Gilbert, Arizona.
Installation Method
Before installing anything new, we first start by conducting a complete demolition of your current shower or bathtub down to the framing studs. We remediate any mold or mildew you may have behind your old shower system, and replace any rotten framing as needed.
This is so you can be sure that your new bathroom remodel is a safe and secure blank canvas for your new acrylic shower installation.
Now that we have remediated your shower rough opening area, we will then replace your rough in valve with a brand-new lifetime warrantied rough in valve.
Arizona has the hardest water around and sometimes that can cause issues if you use a lesser quality product in your plumbing system.
We only use Delta products backed with a lifetime warranty on all products to ensure we never have to worry about any plumbing issues down the road.
After we have replaced your rough in valve, we will then replace your pea trap and move your drain to the new location for your brand-new acrylic shower remodel in Gilbert Arizona.
If needed or necessary, we will replace your hot and cold lines as well.
We use top-grade materials to install a new acrylic shower. It includes a waterproof green board and a red guard sealant. This prevents water and moisture from entering your walls.
Most Acrylic Shower remodels in Gilbert Arizona do not use red guard or greenboard, in fact most use a plywood backer for their acrylic panels which we feel is a way to cut code and proper installation.
By utilizing our installation process, we can back your new acrylic shower with a lifetime warranty on products!
After we have set the green board and applied our red guard waterproof sealant, we then adhere the acrylic wall panels to your wall surrounds.
Once your panels have been adhered to your wall surrounds, we will finish with shower wall trim, shower valve trim and shower head installation.
We chose to share this step-by-step information with you to not only educate you but to also show you the difference between our process and someone that is in and out in one day.
We feel most companies choose to cut corners especially in their waterproofing process. 
Transform your bathroom into a luxurious oasis!
Acrylic Shower Remodels in Gilbert, Arizona offers the HIGHEST QUALITY acrylic shower remodeling, without cutting corners. With our locally owned and operated team, you can trust that your new bathroom will be beautiful and long-lasting.
All of our work is in house, meaning, no subcontracting in our process!

NO grout lines to scrub or maintain!
Especially For Rental Properties and AIR B & B Homes
With our professional install, nothing will ever get behind those walls and the best part is the wall system is indestructible!
Great Option For Any Bathroom!

Most cost effective way, to update your bathroom while having the peace of mind of low cost and the lifetime warranty on materials!!
Why Our Acrylic Products VS Others?
When it comes to acrylic bathroom remodeling in Gilbert, Arizona, Sentrel and its products are the industry leader, providing unmatched quality and style. Our wall panels and simulated tile options are highly customizable, making it easy for you to find the perfect design that suits your taste and preferences.
Our acrylic shower packages come with a lifetime warranty, giving you peace of mind and ensuring that your investment is protected. With Sentrel's acrylic shower solutions, you can achieve a luxurious and modern look for your bathroom without breaking the bank.
Our products are not only affordable but also on par with the latest and most popular bathroom designs. Whether you want a sleek and contemporary look or a more traditional style, Sentrel has the perfect acrylic shower solution for your bathroom remodel needs.
Experience the convenience and beauty of acrylic bathroom remodeling with Sentrel. Contact us today to schedule a consultation and discover how we can transform your bathroom into a stunning and functional oasis.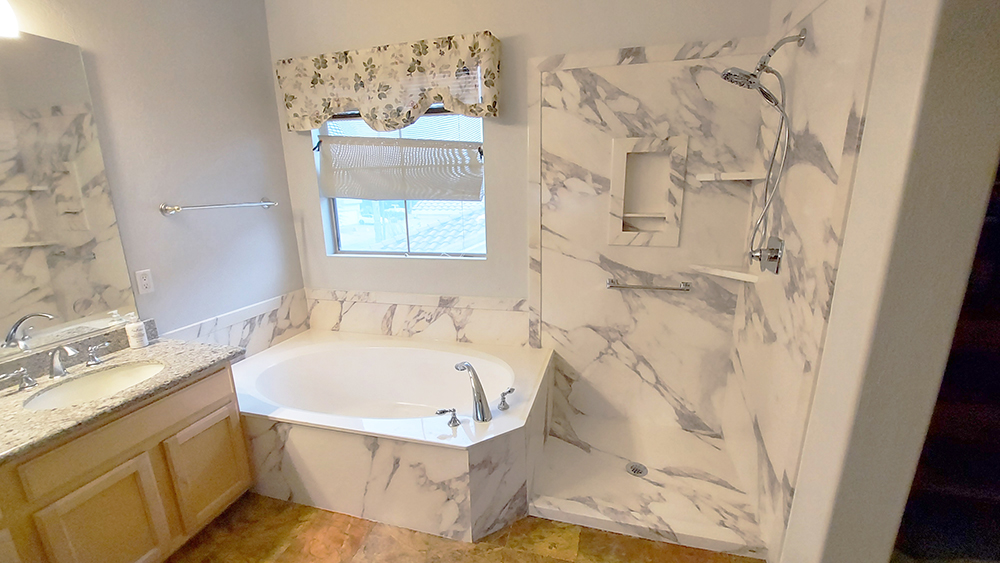 View More Project Gallery
SHOWER AND BATHTUB COMBO'S
SHOWER HARDWARE & ACCESSORIES​
Quality You Deserve & Dependability You Can Count On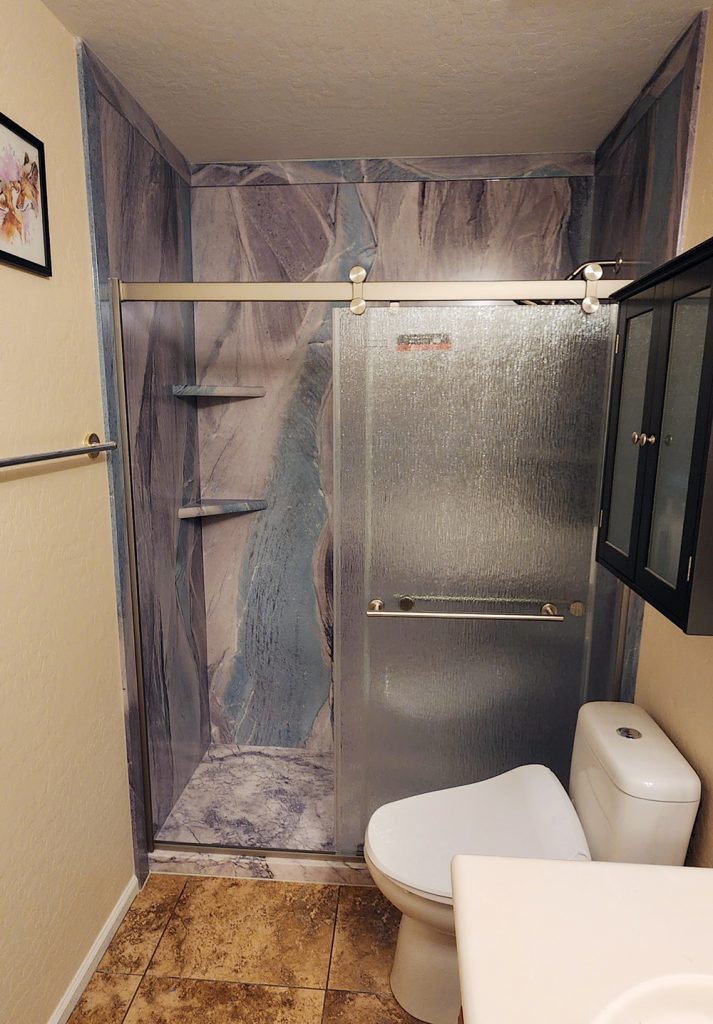 Looking for an affordable, durable, and stylish option for your shower remodel in Gilbert, Arizona? 
Acrylic is the answer! And when it comes to acrylic shower remodels, HomeTime Bathrooms is the name to trust. Here's why:
Customizable Designs: With acrylic, you have a wide range of design options for your shower walls and bases. Whether you prefer a classic or modern look, we have the perfect design for you. Plus, our shower panels and bases can be customized to fit any size or shape of bathroom, ensuring a perfect fit.
Affordability: Acrylic is a budget-friendly option for shower remodels. Compared to tile or natural stone, acrylic is significantly less expensive, yet still provides a high-quality and durable finish.
Durability: Acrylic is a strong and long-lasting material that can withstand wear and tear, making it an ideal choice for high-traffic bathrooms. It is also resistant to mold and mildew, making it easy to maintain and keep clean.
Installation: At HomeTime Bathrooms, our experienced contractors are trained to install acrylic shower walls and bases quickly and efficiently, ensuring minimal disruption to your daily routine.
Warranty: We stand behind our work and provide a lifetime warranty on all our acrylic shower products and installations, giving you peace of mind knowing that you are protected.
By choosing HomeTime Bathrooms for your acrylic shower remodel in Gilbert, Arizona, you are choosing a company that values quality, affordability, durability, and customer satisfaction. 
Contact us today to schedule a consultation and discover how we can transform your shower into a beautiful and functional space.
Opening Times
Monday through Friday 9:00 AM to 5:00 PM and Saturdays by Appointment Only
Office Location
1730 W Sunrise Blvd ste b 101, Gilbert, AZ 85233, United States